Waste tires, once black pollution. Nowadays, with the help of waste tire disposal technology, waste tires have achieved low pollution and high efficiency comprehensive utilization. It is processed into recycled rubber, rubber powder, carbon black and other industrial raw materials, black pollution gradually turned into "black gold".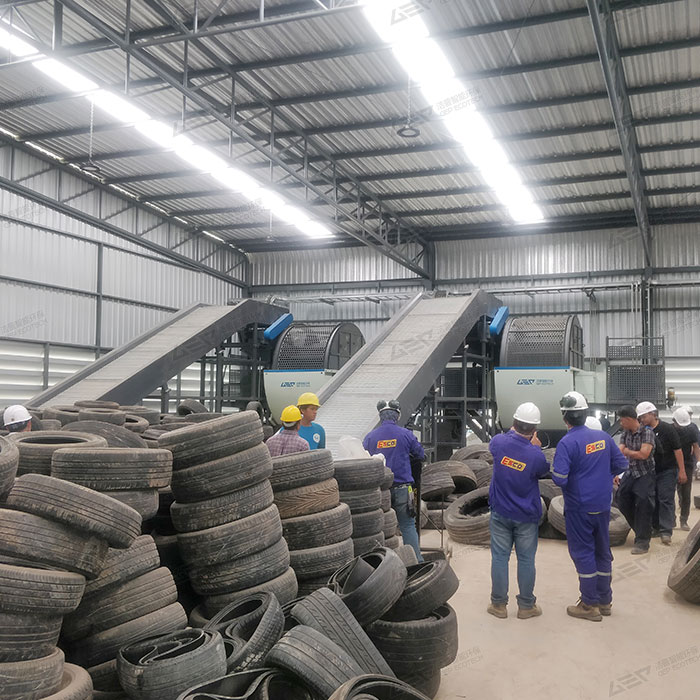 Advantages of GEPwaste tires recycling and disposal system
Shredding and screening integrated design, modular layout, small land occupation;
GEP intelligent control system, to achieve multi-level equipment intelligent linkage, safety production;
The core equipment adopts high precision processing, good stability and low maintenance cost;
The product line is rich, which can meet the requirements of tire coarse crushing, fine crushing, steel wire separation, granulation, grinding, etc;
The production line runs at normal temperature without any chemical additives, which will not cause secondary pollution to the environment.
Core equipment of waste tires recycling and disposal system
Feeding conveyor; Double-shaft Shredder with trommel; Steel wire separator; Rubber breaking machine; Magnetic separator; Vibrating feeder: Fiber cyclone separator; Dust collection system;
GEP team has been committed to the research and development and practice of solid waste disposal technology. After many times of unremitting efforts, develop a series of harmless and resource-based solid waste disposal technologies and equipment, covering various solid waste disposal solutions, such as municipal solid waste, waste tires, industrial hazardous waste, large-scale waste, metal waste, medical hazardous waste, etc.