We supplied 3 sets of biomass fuel shredding line for 3 of 25MW powerplants in Philippines, cooperated with one of the biggest energy consulting company who is TOP 500. The powerplant adopts sugarcane waste bales as the fuel.
The biomass fuel shredding line including: feeding chain plate conveyor, double-shaft biomass shredder, transit conveyor, process sugarcane waste bales by 1800*1200*1200, with shredding capacity around 30-50TPH.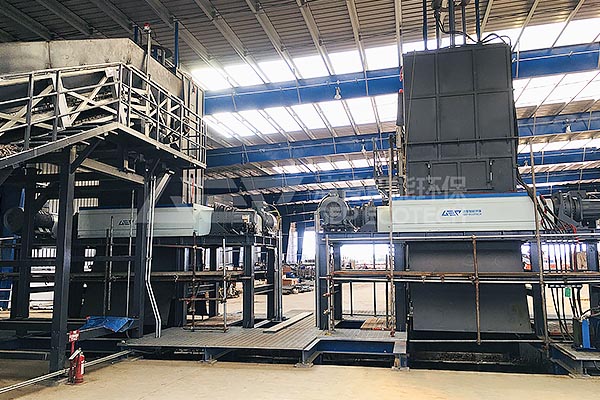 Main equipment specification of the biomass fuel shredding line:
  GD13 Double-shaft intelligent shredder
  Motor: Siemens (Beide)
  Bearing: FAG
  Cutters: Europe imported NiCrMo alloyed steel;
  Control: GEP intelligent control and monitoring system;
The advantages of biomass fuel shredding line
Large capacity, high crushing efficiency-- high crushing efficiency, single machine capacity up to 30-50 t/h; unique anti-winding device design, solve the problem of bundle disposal, ensure the stability of equipment operation.
System linkage, intelligent feeding-- design of a complete set of uniform conveying device, can achieve intelligent adjustment of feeding.
Less dust, environmental protection-- core crushing equipment with low speed, large torque design, good stability, small dust pollution .It can be equipped with a complete set of intelligent dust control system for each dust point, high efficient dust control and less energy consumption.
Intelligent, GI monitoring--GI intelligent patent technology, multi-point monitoring, intelligent maintenance, big data analysis, timely understanding the operation status of equipment, to achieve intelligent, digital and refined production line monitoring and management.
Excellent performance, wear-resistant cutter-- cutter use European imported material, better wear resistance, large shear force, long service life, good interchangeability, save labor maintenance costs.