Biomass power generation is one of the most potential new energy sources with good economic, ecological and social benefits. Straw not only can be used as fuel for power generation, but also has the ability to provide central heating to surrounding enterprises, and power generation can supply local power. The ash and slag left after combustion can be comprehensively utilized to produce industrial raw material silica, and can also be provided to nearby chemical fertilizer plants as raw materials for agricultural fertilizer production, so as to eventually form a circular economy industrial chain of biomass, electricity, heat and chemical industry. GEP Biomass powerplant fuel shredding line is the reliable equipment for biomass power generation.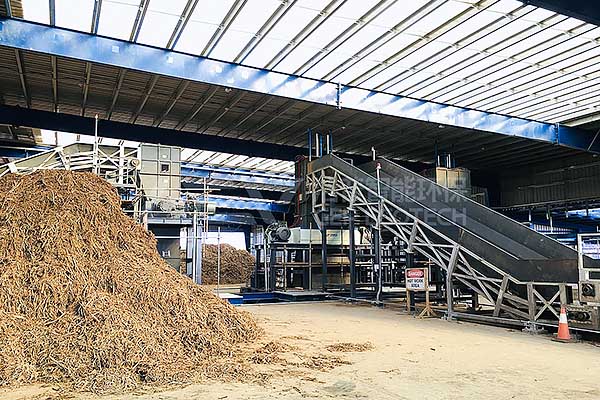 GEP Biomass powerplant fuel shredding line is mainly composed of double-shaft shearing type shredders, feeding chain plate conveyors, output belt conveyors, GI intelligent monitoring system and intelligent dust suppression system. It has high disposal efficiency and makes the biomass fuel easy to be stored, transported and supplied on a large scale.
The feeding chain plate conveyor or grabbing machine evenly feeds the biomass agricultural and forestry wastes into the shredder. The shredder breaks the materials through the working principle of shearing, tearing and extrusion. The shredded materials are sorted out by the magnetic separation device, and then transported to the finished material area or transferred to the next disposal process by the belt conveyor. The whole production system can realize airtight transportation, negative pressure dust reduction and clean production.