When you run a solid waste waste shredder, what's the problem you will concern? Few fault during operation? Easy maintenance? Time saving to change the spare pares? Labour saving to operate the solid waste shredder? Few power consumption? Good protection to the shredder? Work in high efficiency? All of these questions are concerned by operators during shredder operation, GEP always concern customers'problem, we will consider all these problems during our shredder design and keep updating based on the operation experience.
In order to make the solid waste shredder work more stable, low fault and high efficiency, GEP researched GI intelligent system which can greatly improve the solid waste performance. The integrated intelligent control system connects all the single intelligent control systems to the intelligent control host through industrial Ethernet, making it a whole network system, realizes the decentralized control of the equipment and the monitoring and intelligence of the entire production line through PLC. Control: When a certain equipment in the production line fails, the system can not only promptly report the alarm, but also the system can automatically shut down the associated equipment step by step according to the production process, to avoid further damage to the equipment.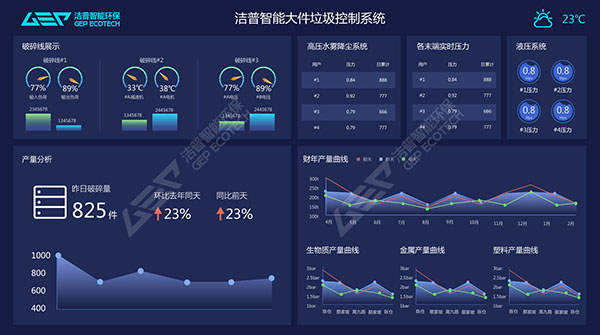 The Main advantages of GI intelligent system:
  1.Centralized start-up control to improve safety of production control.
  2.Logs can be checked to improve the accuracy of solution-making.
  3.Real-time state monitoring, get good grasp of equipment operation status timely.
  4.Telecommunication control, flexible and convenient operation.
  5.Full-line video monitoring, realized visual monitoring on Site.
  6.Adjustable parameters to improve production efficiency.
  7.Fault warning prompt to reduce the incidence of faults.
  8.Automatically collaborative optimization of equipment, to optimize the production mode.
  9.Monitoring of environmental protection elements to improve the working environment of production line.
High efficiency, intelligent control, easy maintenance, few fault is the good performance we pursuit, GEP GI intelligent system make these performance become to reality, call us to ask your intelligent solid waste shredder.