Usually the biomass shredder line is made by a complete system, including the delivery system, the shredder system, the electric control system and other accessory equipment, now let me introduce how is the biomass shredder line working?
The biomass raw materials such as sugar cane skin, tree skin, and branches of various crops are transported to the workshop. The biomass raw materials are stacked for feeding, and then are fed to the double shaft shredder, the upper pusher will push the material to the shredding chamber for shredding. During the operation of the shredder, the intelligent control system suspends the operation of the chain conveyor, and some raw materials are temporarily stored on the conveyor to ensure the continuous materials feeding, and to avoid the equipment failure caused by the raw material accumulation at the mouth of the shredder. The broken biomass raw materials are concentrated on a discharge conveyor, and the output biomass fuel will be processed in the next step. Usually it will be fed to the boiler for electric power generation.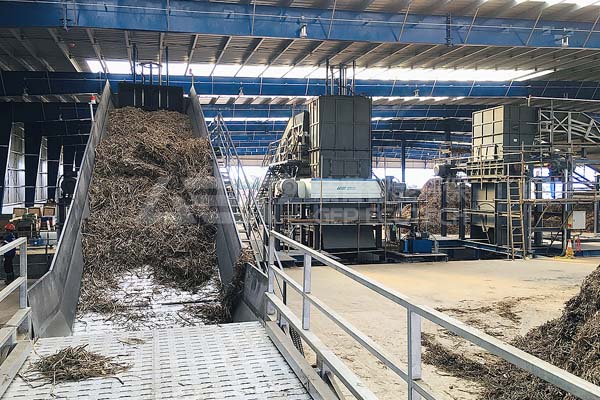 The development of biomass energy has long been a global trend, it is clean energy to generate electric power, it will be used more and more widely, it not only reduce the pollution caused by the biomass, can also bring economic benefits. GEP Ecotech designed disposal solution based on biomass features. Based on different demand, we design different configuration. GEP Ecotech has rich model choice for biomass shredder, no matter 10 tons per hour, 20tons per hour, 30 or 50 tons per hour, we recommend you the most suitable solution.