What is hazardous waste: Hazardous wastes are wastes with hazardous characteristics that are included in the national list of hazardous wastes or identified in accordance with the national criteria and methods for the identification of hazardous wastes. Characteristics: Corrosive, toxic, flammable, reactive, infectious, dangerous.
With the development of industry, hazardous waste discharged in industrial production process is increasing day by day. It is estimated that the world produces 330 million tons of hazardous waste annually. Serious pollution and potential serious impacts from hazardous wastes. So suitable way to deal with the hazardous waste is important.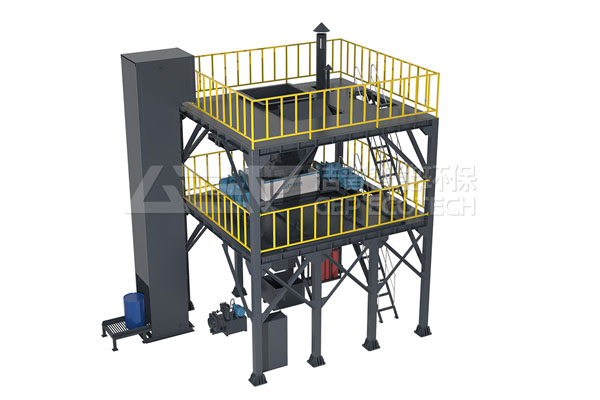 GEP ECOTECH designed GV Intelligent tower type hazardous waste shredding station, it is a set of intellectualized, modular and one-stop hazardous waste pre-treatment plan independently developed by GEP according to the characteristics of hazardous waste disposal, which integrates lifting system, storage bin, safety protection system, crushing system, fire fighting system, intelligent control system and maintenance system. The system can not only provide professional intelligence for customer, but also combine with professional fire company to design a high-quality fire control system , at the same time professional design and treatment have been done in the aspects of anti-corrosion, anti-leakage and explosion protection of equipment, so as to realize the safety control in the whole process from feeding to tearing and ensure the efficient and stable operation of the shredding line.
If you want to know about hazardous waste disposal, welcome to call us, we can provide suitable solution.