Usually food waste contains high moisture content, so in the food waste recycling processing, it is an important process to reduce the water content of the food waste. In this case, screw pressing machine is needed, today, let me introduce the screw pressing machine.
GCP series screw press machineis mainly composed of feed hopper, pressing screw, pressing cavity, water collecting tank, drain port, slag discharge port, driving device and so on. The material entered through the feed hopper is extruded and dehydrated under the action of pressing screw. The extruded water from the material is collected into the sink, then discharged,and the material after pressing is discharged through the slag outlet.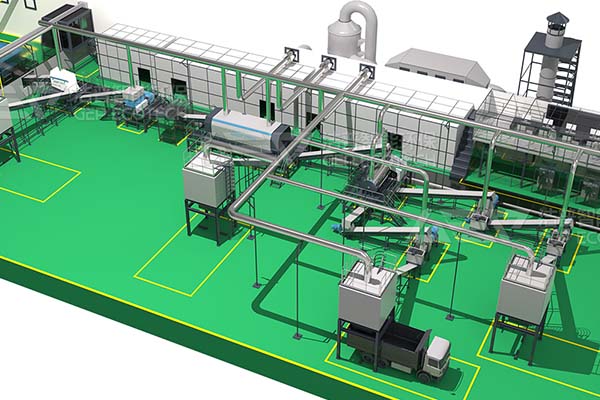 The screw push the material forward in the screen, the volume of the material gradually becomes smaller in the screenby reducing the pitch of the screw, or reducing the depth of the screw.The liquid in the material flows out of the screen because ofscrew and screenpressing. In order to reduce the volume of waste, it is used for dehydration of waste residue such as kitchen waste, fruit and vegetable waste, traditional Chinese medicine enzyme, tea wine and so on, as well as animal feces / biogas residue.
Product advantages
Frequency conversion drive, can adjust the speed according to the materials features, is suitable for many materials.
High compression ratio, high dehydration rate, no blockage, no winding phenomenon, continuous production.
Fully enclosed connection with excellent sealing performance to ensure that the waste water, odor will not leak from the machine.
Air pressure is used to adjust the extrusion pressure of the material at the tail, which is easy to maintain and to control.
The whole machine is made of high wear resistant material with high strength, good corrosion resistance and long service life.
GEP can provide complete food recycling solution according to different demand, if you have any questions about food waste recycling, please be free to contact with us.