Bulky waste is a kind of domestic waste which is difficult to dispose, it is also not inconvenient to clear and transport. Bulky waste disposal system is the important part of bulky waste processing and recycling.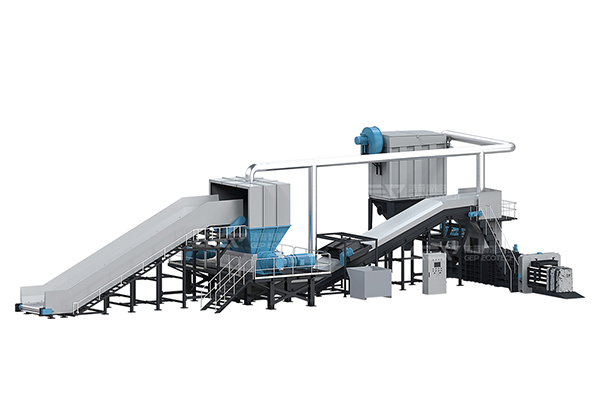 GEP bulky waste disposal system
GEP bulky waste disposal system is mainly composed of chain plate conveyor, dual shaft shredder, magnetic separator, dust suppression system and intelligent control system. This system application is waste sofa, large wardrobes, old chairs, waste mattresses, old wooden frames and other large furniture. After processing, the volume can be reducing. The size after shredding is convenient for terminal disposal, resource recycling, power generation.
The advantages of GEP bulky waste disposal system
Intelligent and Automatic: Siemens PLC & Intelligent monitoring system realize the real-time monitoring of bearing temperature, motor temperature and electrical currency.
Integral shredding chamber, GEP Ecotech patented technology
Cutter material: The cutter can adopt the NiCrMo high alloy steel. After forging, cutting, GEP grinding machine, multiple heat treatment and refined to ensure the high precision machining, the cutter has good abrasion resistance and moderate toughness.
The Main shaft: The material of the shaft is 42CrMo and is modulated by several times of heat treatment, and tested by ultrasonic testing machine.
Imported FAG bearing: Bearing is with high load capacity, long life, dustproof, waterproof and antifouling, which ensures continuous and stable operation of the machine.