Single shaft shredder as an important machine used in solid waste recycling industry, the performance will directly influence the solid waste recycling production efficiency.It is widely used in resource regeneration, RDF (domestic waste derivative fuel) production, plastic recycling, garbage treatment and other fields.
Gep has exported many sets of single shaft shredder over the world and enjoy good reputation among customers, why GEP single shaft shredder with good performance, because it has the following advantages: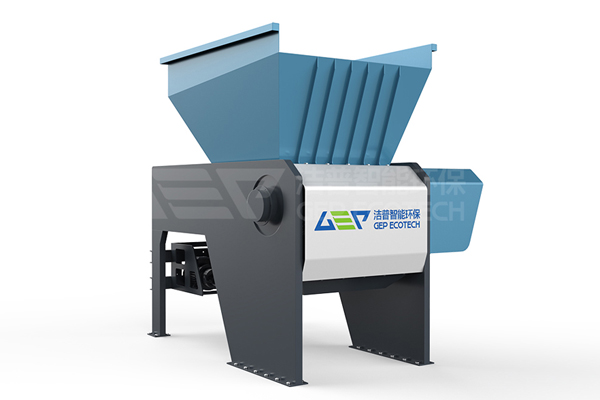 1.GI patented intelligent technology, remote monitoring and diagnosis
GI intelligent technology is used to control and monitor the whole production process in real time, real-time on-line running state monitoring and centralized control, and the running data are provided to the central control center in time. The functions of automatic memory, data analysis, fault prediction, alarm shutdown, linkage control and intelligent maintenance are realized by remote diagnosis and control of production line through mobile phone APP or computer terminal, so as to form an effective early warning mechanism which can effectively reduce equipment failure rate and maintenance time, reduce maintenance and operation costs, and greatly improve the operation efficiency of the production line.
2.Single-shaft and two-motor drive, high shredding efficiency
The single-shaft "double motor + double reducer" drive design provides large shear force to ensure higher shredding output.
3.Imported bearing, multi-combined seals
Imported bearings and multiple combined seals are adopted, which have high load resistance, long service life, dust-proof, waterproof and pollution-proof, and ensure the continuous and stable operation of the machine.
4.Hydraulic auxiliary structure, easy maintenance
The swing arm hydraulic pressure device can push the material smoothly and effectively to the shredding area; the hydraulic opened repair door, the hydraulic opened screen with one key opening, greatly facilitating the replacement, maintenance and maintenance of the cutter and screen.
5.Screen can be replaced independently reduced maintenance costs
The whole set of screen is composed of several separated screens parts, each of which can be replaced independently, thus effectively reducing maintenance costs.
6. Independent movable cutters can be disassembled and installed independently
7. Each fixed cutter can be disassembled and installed independently, and can be quickly disassembled in a short time, which greatly reduces the workload of workers and improves the continuity of production.