Recently we received a customer call us that he want to buy a waste tire recycling solution, his demand is like this: The raw material is car and truck tire(with 400-1000mm diameter), the customer want the tire be shredded to ≤20mm, the capacity he need is 5-6 tons per hour.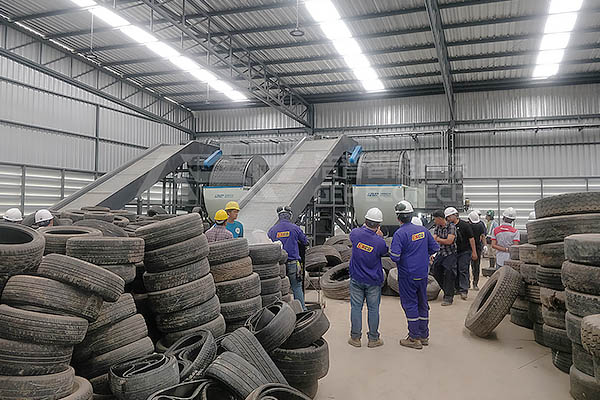 Based on his demand, we recommended a complete waste tire recycling solution, the main machine is bead wire pulling machine, double shaft shredder, steel wire separator, the detailed solution is like following: First the bead wire of the big tire should be pulled out by the bead wire pulling machine, then the tires will be fed to the double shaft shredder by belt conveyor, the double shaft shredder will shred the tire lump to strips, then fed to the roller screen, the tire strips below 50mm will discharge from the roller screen, the strips bigger than 50mm will back to the shredder for secondary shredding, then all the 50mm tire strips are fed to a hopper and then send to the steel wire separator, the steel wire separator can shred the tire 50mm strips to below 20mm and separate the steel wire, the steel wire are removed by the magnetic separator, the 20mm rubber are the final products. GI intelligent control cabinet will control the whole system.
After discussion, customer think this solution can meet his demand, now we are discussing the commercial items.
If you also want to know the solution about the waste tire recycling, please feel free to contact with us, we can recommend suitable solution based on your exact demand.