GEP waste tire recycling equipment
GEP waste tire recycling line consists of tire bead wire drawing machine, feeding chain plate conveyor, double-shaft shear shredding, rotary screen and discharge belt conveyor. The production line adopts the structural design of the combination of double shaft shear crusher and annular roller screen, which not only meets the requirements of output and discharge size, but also meets the planning and construction needs of customer's tire disposal production and operation. The equipment has passed CE certification, and it will not cause secondary pollution to the environment when it operates at normal temperature. It is an intelligent choice for tire crushing pretreatment.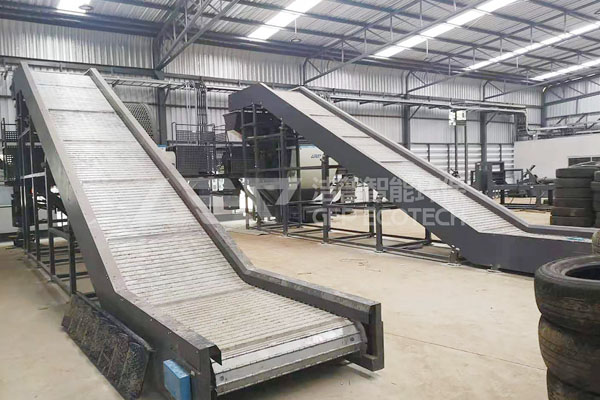 Waste tire recycling line pretreatment technology
After the coarse steel wire on both sides of the wheel hub is extracted by the tire bead wire drawing machine, the extracted tire is transported to the double-shaft shear type shredding chamber through the heavy metal chain plate conveyor. The rotor in the cutter box is driven by the motor and reducer. The working principle of low speed and high torque is to shred and shear the tire into blocks. The rotary drum screen is designed outside the equipment for encircling. Cut into small pieces of tire rubber block, fall on the drum screening, the rubber block smaller than the screen mesh is dropped to the output equipment for the next process, and the rubber block larger than the screen aperture is returned to the crushing bin for secondary crushing. The crushed rubber block is discharged from the discharge belt conveyor, and finally discharged directly into the cracking and refining equipment.
At present, with the support of a number of scientific research and technology patents, GEP has optimized the transformation and upgrading of products, and has designed one-stop solid waste disposal station and waste tire recycling solutions for many domestic and foreign partners, and has won high praise from customers.