During waste tire recycling, many machine are used according to different usage. Some need tire strips, some need tire particles, some need tire powder. In these machine, today I will introduce the waster tire wire separator.
Waste tire wire separator is a kind of equipment developed independently by GEP in view of the rising trend of waste tirerecycling and practical experience. The tire wire separator consists of motor, reducer, rotary cutter roller, frame, screen, hydraulic auxiliary deviceand so on. It can shredthe waste tire rubber block (50-100 mm) into 15-30 mm particles and separated the steel wire and some fibers from rubber during the crushing process.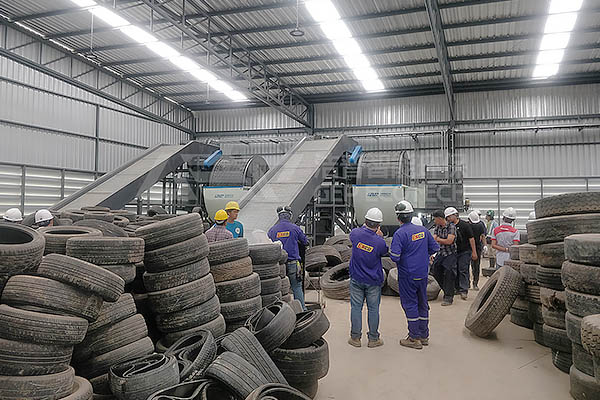 The working principle of waste tire wire separator:
Tirewire separatorusethe cutting and squeezing of the file on the rotary cutter roller and the file on the chamber, to shred the tire to a smaller particle size. At the same time, the steel wire and some fibers were separated from the rubber during therubber crushing. The bottom of the steel wire separator is equipped with a screen, the materials which are small than the screen mesh will fall,and the material larger than thescreen mesh will remain in the cavity andbe crushed again until it is broken to less than the screen mesh size.
If you want to know more about the waste tire wire separator usage during waste tire recycling, please feel free to contact with me.